Listen to Internet Radio with EasyMPD. (Linn Radio)
Linn Radio is a high quality Internet radio providing 320Kbps streaming. If you make a playlist with the URL address of Linn Radio we can linsten to Linn Radio with EasyMPD. In the same way, we can listen to other Internet radio as well if we know the URL address of the Internet radio.
Here we will look at how to make Linn radio playlist in EasyMPD.
1. First we should check the host and the path of the folder which is registered as
DB Backup directory
in EasyMPD because we will save the Internet radio playlist at DB Backup directory. We can find the host and path at "MPD -> Music Directories" in EasyMPD WEB GUI. In case of below image, we can find the information of DB Backup directory. The host's IP address is "192.168.11.9" and the path is "mpdbackup". Then it means that the full path of the DB Backup directory is "\\192.168.11.9\mpdbackup" in network.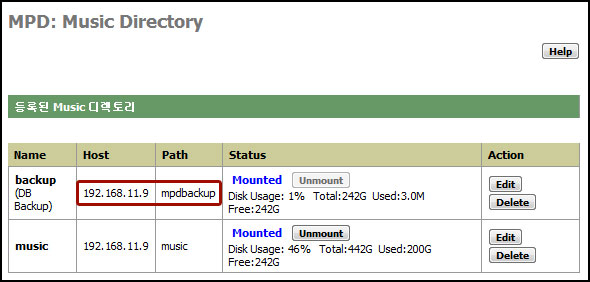 You can open the folder of the DB Backup directory if you enter the full path into the address bar of Windows explorer(file explorer) in your Windows computer.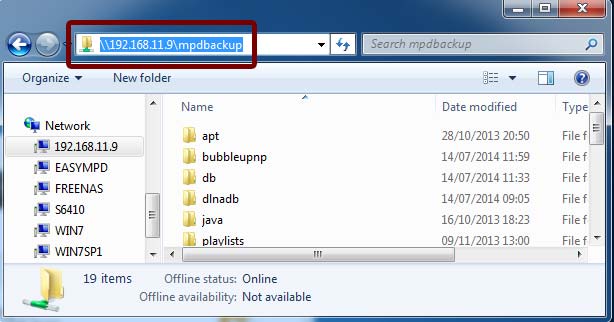 2. Copy below URL of Linn Radio and paste to
Notepad
.
Linn Radio
http://89.16.185.174:8003/stream
Linn - Jazz
http://89.16.185.174:8000/stream
Linn - Clasical
http://89.16.185.174:8004/stream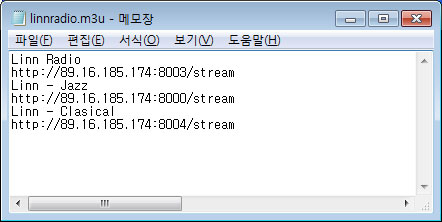 3. Save this file as name of "
linnradio.m3u
" into the folder of "
playlists
" in the folder of "
MPD DB Backup directory
". Please note that the extension name should be "
m3u
".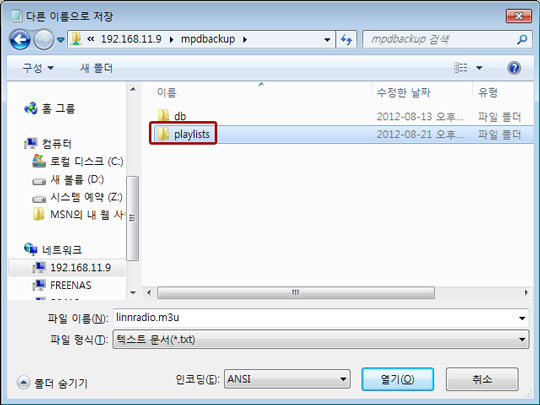 4. Make sure that the file is saved as like below image.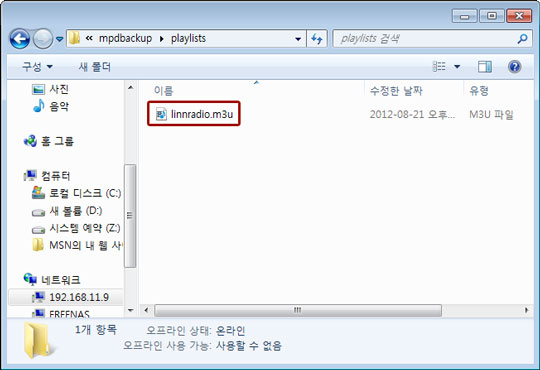 5. Open EasyMPD WEB GUI and click "
Restart MPD
" button at "System Information" page, the first page of EasyMPD WEB GUI. Then Alix and APU will bring the new playlist from DB Backup directory in order to show it to MPD Client program.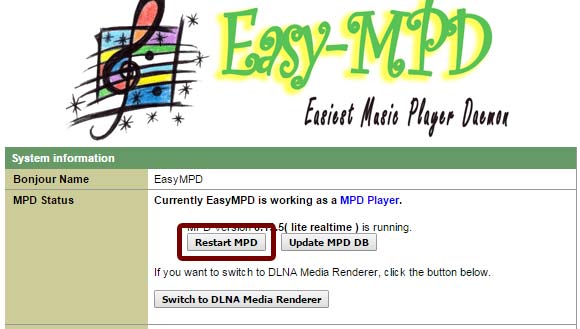 6. About 2 minutes after restarting MPD, you can see "linnradio" in your MPD Client. (Some MPD Clients like MPoD and MPad need "Refresh local cache".)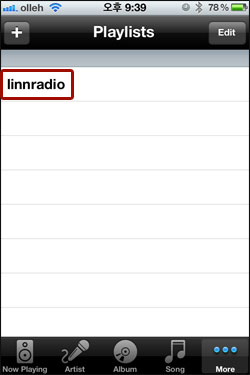 7. Now select linnradio playlist and listen to Linn Radio.